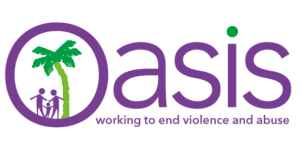 Help Us to Help Those Affected by Domestic Abuse
As a traditional family run business for the past 10 years we have continually strived to support our local community, where we live as well as work, in any way we can.
Therefore we are pleased to announce that we will be supporting the Kent based charity, Oasis
For over 22 years, Oasis have been supporting people who have been affected by domestic abuse. In that time their services have expanded along with their expertise but their focus on improving safety and rebuilding lives has been steadfast.
It is for that reason that we are proud that our community focus for the start of 2021 is to fundraise for Oasis through sponsoring one of their care packages for every Full Service Cover Plan we sell.
Domestic Abuse
Domestic abuse is a pattern of behaviour that uses power to control a person with whom the abuser has a close relationship. It's about someone you know trying to control your life. Abuse isn't just physical; it is controlling, coercive or threatening behaviour, violence or abuse. This includes (but is not limited to):
Psychological abuse
Physical abuse
Sexual abuse
Financial abuse
Emotional abuse
If you feel intimidated by or frightened of someone you have a relationship with, to the point that you feel that you have to change your behaviour, you may be experiencing domestic violence.
If you or your family are in immediate danger please call the police on 999. In a non-emergency situation you can call Kent police on 101.
To find out more about how Oasis can help you or someone you know visit their website.
Why A Care Package Makes Such A Difference
Often when escaping domestic abuse, women and children have to leave all their belongings behind. Therefore a care parcel is provided to women and children who enter the refuge or for when they move on to a new home.
These parcels could include new toys and games, toiletries or clothes and the key essentials needed when moving to a new home.
How can you help us to support Oasis?
We offer a range of Home Cover Plans helping you to keep your home warm and safe.  For every Full Home Cover Plan purchased, we will sponsor an Oasis Care Package
Please help us to help those affected by domestic abuse and support the great work of local charity Oasis.
Thank you!