At C S Heating & Plumbing we want to make things easier & more convenient for our customers – that's why we offer a range of ways to pay, including a number of boiler finance options.
You can opt to pay at the time of installation, with a 50% deposit and 50% once the work is complete.
With Novuna Personal Finance you can
Defer payment for a whole year with Countdown Interest Bearing.
A Buy Now Pay Later loan allows you to defer your payments for a period of time and all you will pay extra is a £27 admin fee.
(17.9% APR Representative will be applied if you do not pay the balance full by the 12th month.)
Or spread your payments up to 10 years (9.9% APR Representative).
With Accelerated Payments Interest Bearing.  A product where the interest is charged monthly and overpayments can be made to reduce the term of the loan.
Thank you for showing interest in the Interest Bearing Finance product from CS Heating & Plumbing Limited
9.9% interest bearing can be a fantastic way of paying for your new Worcester Bosch boiler.
The table below shows you what the monthly cost may be.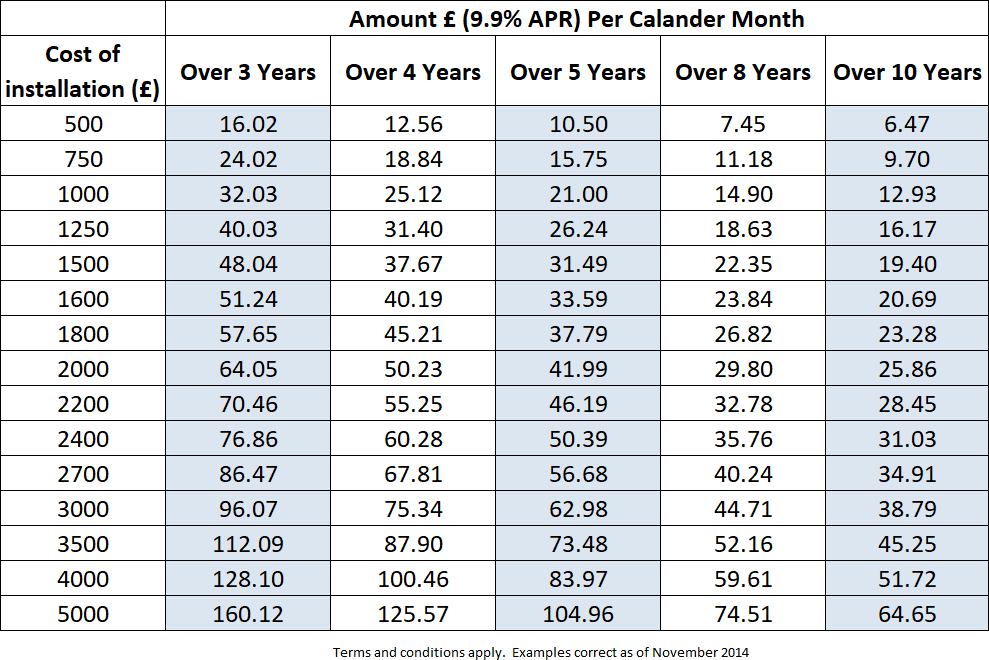 We have also partnered with Be Warm to offer you a different kind of finance
Boilers, without the bother
Take the hassle out of your heating with the BeWarm Heating Plan.
Heating Plans like ours are very popular in other countries, with over 1 million households in Canada and the Netherlands choosing such a Plan, rather than buying outright.
The benefits of this plan is that BeWarm will finance the boiler upfront and with CS Heating & Plumbing will service and maintain the boiler for its lifetime at no extra charge.
For more information please click here. 

We can offer you peace of mind for your boiler once it has been fitted from just £9 per month, When you choose CS Heating & Plumbing to install your new boiler, our cover plan will ensure a free service to keep your boiler in warranty and free callouts and repairs for the life of your boiler. Click here for more information.
Credit subject to status and affordability. Terms & Conditions Apply. CS Heating and Plumbing Limited trading as CS Heating & Plumbing Limited a credit broker and is Authorised and Regulated by the Financial Conduct Authority. Credit is provided by Novuna Personal Finance, a trading style of Mitsubishi HC Capital UK PLC, authorised and regulated by the Financial Conduct Authority. Financial Services Register no. 704348. The register can be accessed through http://www.fca.org.uk